Tennessee has a horrible, anti-consumer, anti-safety law. The worst law in the U.S.
So - how can you and your family stay safe?
#1 NEVER, EVER buy a car with an unrepaired safety recall.
Recalled cars are ticking time bombs on wheels. They are dangerous and defective. They are likely to injure or kill you, your passengers, and / or others who share the roads. Many recalled vehicles have defects that have killed or maimed others.
Typical safety recall defects:
catching on fire
bad brakes
seat belts that fail to stay fastened in a crash
wheels that fall off
steering loss
accelerator pedals that stick
stalling in traffic without warning
Plus – many recalled used cars have multiple safety defects. Like faulty steering,
and
catching on fire,
and
bad brakes,
and
airbags that fail to inflate when you need them.
Here's what can happen –
Horrific crash kills family of 4 just hours after dealer handed the CHP officer the keys to an unsafe car.
Just hours after a car dealer handed California Highway Patrol Officer Mark Saylor the keys to this Lexus, it killed him, his wife, their 13-year-old daughter, and his brother-in-law. The accelerator stuck, causing the car to careen out of control on the freeway, reaching speeds over 120 mph. This tragic crash led to the massive Toyota sudden acceleration recall of millions of vehicles with sticking accelerators.
The lesson from this horrible tragedy is: An auto safety defect can kill you and your family, before you even have a chance to get the car repaired. Car crashes are a leading cause of death and devastating injuries. It's already risky to be on the roads, even when your car is safe to drive. Your life is precious. It's not worth the risk.
Recalled used cars can be impossible to get repaired, for a long time.
Repair parts to fix the safety defects may not be available for months, or even years. Right now, across America, tens of millions of cars with exploding Takata airbags still have not been fixed. Auto manufacturers say that it could take until 2019 before enough repair parts are available. If you buy one of these cars, it may be a long time before you can get it repaired. Some manufacturers are offering loaner cars, but others, such as Ford, refuse to provide loaners, while their customers remain at risk.
For some other safety defects, the manufacturers have not even designed the replacement parts yet, and it may take them a long time to produce them.
You may face having to pay hidden costs.
If the car is 15 model years or older, you may have to pay out of pocket for safety recall repairs. Auto manufacturers are required to pay for safety recall repairs -- but only for up to 15 years from when the recall is issued. If the car falls outside that 15 year limit, you may be stuck with a huge repair bill, and meanwhile you will be driving a very unsafe car.
Only franchised new car dealers are authorized to make safety recall repairs. The nearest authorized dealer may be a long distance from where you live and work. Taking a recalled car to a dealer may mean you would have to take time from work, and drive a long distance. What if you can't get time off from work during the hours when the nearest dealership is open for repairs? Would you lose pay, or your job, if you have to leave work to take your car to the dealership? Can you do without your car for a couple of days if the repairs drag on?
What if you injure or kill someone else?
Candice Anderson pled guilty to negligent homicide after her fiancee was killed in a wreck caused by the GM ignition switch defect, which eventually led to a massive recall. Photo credit: Hilliard Munoz & Gonzales, reprinted in USA Today
If you injure or kill someone else, you could be sued, and may face serious liability. You could also be arrested and convicted of vehicular homicide and sent to prison. In Texas, a woman whose vehicle had the GM ignition switch defect pled guilty in the death of her fiancee, and only years later was finally exonerated, after it became public that the car was defective and GM had concealed the defect and lied to safety regulators.
See related story:
USA Today: Woman cleared in fatal crash now blamed on GM recall
DO: search for used cars offered for sale by large rental car companies.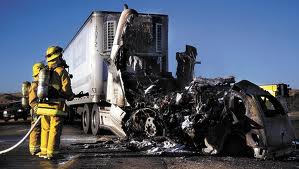 Car dealers in TN want to sell you recalled cars with defects like the one that caused this crash, killing Raechel and Jacqueline Houck, ages 24 and 20. The car was recalled because a steering hose defect could occur, causing a loss of steering and an under-hood fire.
Unlike car dealers, rental car companies with fleets of 35 vehicles or more are prohibited by federal law from renting, loaning, or selling unrepaired recalled cars. So they are a good place to look for used cars that have already had the safety recall repairs done.
For example, Hertz, Enterprise, and Avis all sell used cars. The federal Rental Car Safety Act is named for two sisters, Raechel and Jacqueline Houck, who were ages 24 and 20, when they were killed by an unrepaired recalled rental car with a defective steering hose. More about how the federal law got passed, thanks to the courage of their mother, Cally Houck:
See related story:
L.A. Times: One mother spent a decade after her daughters' deaths changing car-rental laws
DO: Search for used cars offered for sale by dealers in other states, but be careful to check for safety recalls first.
Dealers in other states may be less likely to risk selling consumers unsafe cars, because no other state has enacted a law like Tennessee. When car dealers attempted to get similar laws passed in states like Virginia, the authors were forced to withdraw or amend them to remove the harmful provisions, due to outraged reactions from safety advocates and their own constituents.
However, it's still important to check the safety recall status yourself. Never trust a seller to tell you the truth about safety recalls. Sadly, many of them have been repeatedly caught on camera lying about safety recalls.
DO: Search for used cars offered for sale by individuals, but be careful to check out the cars very carefully before you buy.
Here are tips for how to get a good deal on a nice, safe, reliable used car, without having to set foot on a car dealer's lot:
CARS Tips for Used Car Buyers
DO: Beware of auto dealers who claim their cars passed a "rigorous inspection" and qualified to be sold as "certified."
It's shocking, but some major car dealers, such as CarMax, advertise that their cars are "only the best" and have passed a "rigorous 100+ point inspection," and qualify to be sold as "certified," but fail to get the FREE safety recall repairs done. Don't be misled by such claims.
DO: ALWAYS check for safety recall repairs yourself, before you buy.
If you have access to the internet, it's simple and easy to check for safety recalls.
First, find the Vehicle Identification Number (VIN) for that car or truck. The VIN is a unique 17-digit combination of letters and numbers. It should be posted on the driver's side of the dashboard, and visible through the windshield. It should also be on a sticker on the driver doorjamb that includes the date the car was manufactured.
Next, visit
www.safercar.gov
. Click "search for recall by VIN" and then type in your VIN. If the recall notice says that the recall is "incomplete," then according to the manufacturer, it has not yet been repaired.
If you don't have internet access, you can also find out by calling the manufacturer's toll free number. Or you can contact a local franchised dealer who sells that brand, ask for the service department, give them the VIN, and ask them to check the recall status for you.
What if a Tennessee car dealer tries to sell you a recalled used car?
Look for a separate form that the dealer may try to get you to sign, that says something about "recalls." It may be hidden in a stack of documents the dealer hands you to sign.
Ask the dealer / manager if he will give you a "deathtrap discount." Not only are recalled used cars unsafe, they are also worth much less than a safe car. In fact, they may be worth very little, since they are unsafe to drive.
Record what the dealer says, so you have it on record in case you need to show what the dealer / manager / salesperson said about the condition of the car.
Other questions to ask the dealer, and to record:
Is this car unsafe to drive?
How long will it be before I can get repair parts to fix all of the safety recalls?
Will you provide me with a safe loaner car (or truck) that I can drive, at no cost to me, until this car (or truck) is repaired?
Will I have to pay out of pocket for any repair costs to get the safety recall defect repaired?
Why record what the dealer says?
Dealers may be a little less likely to lie if they know they are being recorded.
You can share what the dealer said with consumer groups, and with reporters or law enforcement agencies. Getting information from consumers about what dealers say about the safety of the cars they offer for sale may help put pressure on dealers to stop engaging in such dangerous practices
If you are injured or killed, your family will at least have a record of what you were told, in the event they may wish to file a lawsuit.